Instant Price Comparison Tool
Choose a quantity of tshirts below and compare us
against 5 of our best competitors. These competitors
either operate large online print shops or are local high-quality
Los Angeles printers. We've kept them anonymous out of respect.
Point is, we've done our homework and our cost can't be beat.
$9.50 $8.50 $7.20 $6.25 $5.50 $5.10 $4.75
UniqueINK Online Average Job: 12-24 tshirts
$9.63 $7.95 $7.34 $7.00 $6.52 $6.17 $5.83
Supersized Screen Printing Average Job: 24-72 tshirts
$10.50 $10.25 $10.00 $9.50 $8.75 $8.25 $7.75
DT Los Angeles Screen Printer Average Job: 72-288 tshirts
$14.11 $10.69 $9.96 $7.23 $6.31 $5.63 $4.78
Haiden Screen Printing Average Job: 288-1,200 tshirts
$13.75 $10.50 $8.00 $6.75 $6.10 $5.50 $5.00
This isn't
Johnny's Garage
Your brand deserves the highest quality screen printing, and that starts with the equipment used. With laser-guided precision, we achieve perfect prints, time after time, using our ROQ automatic screen printing machines and dryers.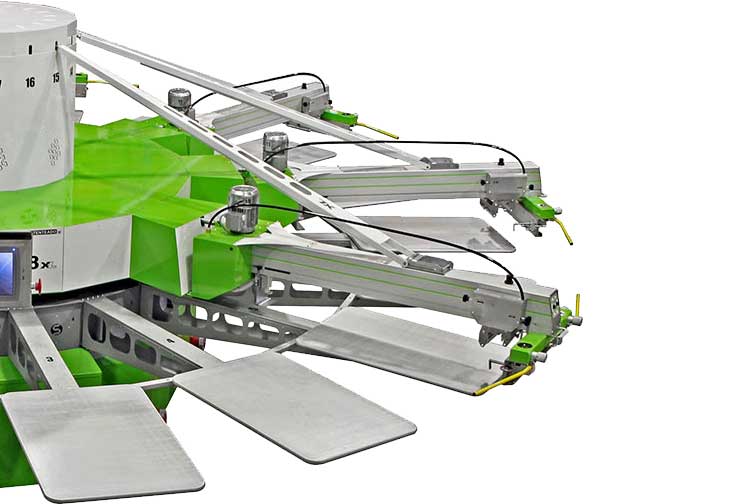 Recent Work
Serving Los Angeles, California with a capactiy of 100,000 screen printed tshirts per month, we can handle orders from 24 pieces to 20,000 with artwork ranging from 1 to 10 colors.
CUSTOM PRINTING
I NEED TSHIRTS

Don't have your tees? We offer a wide selection of apparel styles. Custom printing means we will provide the tshirt with the print for just one flat rate. Below is our general pricing guidelines. Some styles will be cheaper or more expensive than the prices listed.
CONTRACT PRINTING
I HAVE TSHIRTS

Already have your tshirts blanks? We offer our printing service for companies like you. Contract printing means that you will provide the garments and we'll print the designs. Pricing below is for plastisol inks. Additional print locations are an additional 50% more. We also offer neck tag screen printing as well as premium screen printing techniques.
| QTY. | 1 Color | 2 Color | 3 Color | 4 Color | 5-6 Color | 7-8 Color | 9-10 Color |
| --- | --- | --- | --- | --- | --- | --- | --- |
| 24-72 | 9.50 | 10.00 | 10.50 | 11.00 | 11.50 | 12.00 | 12.50 |
| 72-144 | 7.20 | 7.45 | 7.70 | 7.95 | 8.20 | 8.45 | 8.70 |
| 144-288 | 6.25 | 6.50 | 6.75 | 7.00 | 7.25 | 7.50 | 7.75 |
| 288-576 | 5.50 | 5.75 | 5.50 | 5.75 | 6.00 | 6.25 | 6.50 |
| 576-1,200 | 5.10 | 5.30 | 5.50 | 5.70 | 5.90 | 6.10 | 6.30 |
| 1,200-2,400 | 4.75 | 4.95 | 5.15 | 5.35 | 5.55 | 5.75 | 5.95 |
| 2,400-5,000 | 4.50 | 4.65 | 4.80 | 4.95 | 5.10 | 5.25 | 5.40 |
| 5,000-10,000 | 4.25 | 4.40 | 4.55 | 4.70 | 4.85 | 5.00 | 5.15 |
| 10,000-20,000 | 4.10 | 4.25 | 4.40 | 4.55 | 4.70 | 5.85 | 5.00 |
| QTY. | 1 Color | 2 Color | 3 Color | 4 Color | 5-6 Color | 7-8 Color | 9-10 Color |
| --- | --- | --- | --- | --- | --- | --- | --- |
| 24-72 | 2.95 | 3.95 | 4.95 | 5.95 | 6.95 | 7.95 | 8.95 |
| 72-144 | 2.00 | 2.25 | 2.50 | 2.75 | 3.00 | 3.25 | 3.50 |
| 144-288 | 1.85 | 2.10 | 2.35 | 2.60 | 2.85 | 3.10 | 3.35 |
| 288-576 | 1.70 | 1.95 | 2.20 | 2.45 | 2.70 | 2.95 | 3.20 |
| 576-1,200 | 1.50 | 1.75 | 2.00 | 2.25 | 2.50 | 2.75 | 3.00 |
| 1,200-2,400 | 1.25 | 1.50 | 1.75 | 2.00 | 2.25 | 2.50 | 2.75 |
| 2,400-5,000 | 1.00 | 1.25 | 1.50 | 1.70 | 1.90 | 2.10 | 2.30 |
| 5,000-10,000 | .90 | 1.05 | 1.20 | 1.35 | 1.50 | 1.65 | 1.80 |
| 10,000-20,000 | .75 | .90 | 1.05 | 1.20 | 1.35 | 1.50 | 1.65 |